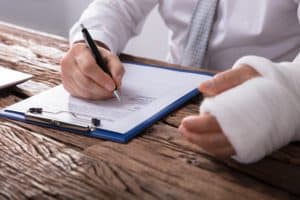 When you live with a disability, every day is filled with uncertainty. You may have no income, high medical bills and constant worries about whether you will make ends meet. On top of it, you may be anxiously waiting for a decision on your Social Security Disability benefits claim. You may have recently applied for those benefits or appealed the denial of your claim.
The wait can be long. For instance, if your case reaches the second stage in the appeals process – a hearing before an administrative law judge (ALJ) – you may go nearly two years before the nearest Office of Disability Adjudication and Review (ODAR) hears your case. As of May 2018, the  average wait times for ODAR offices in Virginia were:
Richmond                 18 months
Roanoke                  20 months
Norfolk                     18 months
Charlottesville          17 months
As you wait for a decision on your disability benefits claim, it may help you to know about various forms of assistance that can help you to get through tough times, including financial, medical, housing, food and other types of help. Your Social Security Disability Benefits attorney from Marks & Harrison can review these options with you and discuss your case in more detail in a free consultation. They may include the following:
Workers' Compensation Benefits
Not everyone with a disability in Virginia qualifies for workers' compensation benefits. You must have been injured on the job. If you do qualify, then you can receive benefits that cover all of your related medical care as well as replace a portion of the wages you have lost due to your temporary or permanent disability. You can actually continue to receive these benefits even if your Social Security Disability (SSD) claim is approved.
The sooner that you discuss workers' compensation benefits with an attorney, the better. You must meet a series of deadlines in order to properly pursue your claim. Your lawyer from Marks & Harrison will make sure you meet those deadlines and fight for all benefits you are due.
Veterans' Disability Benefits
If you served in the military and incurred injuries or developed a medical condition as a result of your military service, a Virginia veterans' disability  benefits lawyer can help you to determine whether you can receive compensation through the U.S. Department of Veterans Affairs (VA). Much like workers' compensation benefits, you may learn about your VA disability benefits claim sooner that you learn about your claim for SSD benefits.
Department of Social Services
Other programs can help you to get by until your SSD claim is decided. For instance, the Virginia Department of Social Services (DSS) offers assistance based on need for things like food, medical care, child care and collecting child support. You can ask your attorney from Marks & Harrison for suggestions. For instance, we may be able to connect you with a state social worker who can coordinate various programs and help you to get through the months or years you may need to wait until you learn about your SSD benefits claim.
Medicaid
Perhaps the biggest challenge that disabled people face is the cost of medical care. However, if you are struggling to pay your medical bills, you may qualify for assistance through the Medicaid program. This is a needs-based healthcare program that can help you to meet the cost of medical care. Although it is based on need, you do not have to be entirely impoverished to qualify. In fact, there are different tiers and levels of assistance available, depending on your income.
Other Social Services Programs
Another helpful option is to check with Easy Access Virginia. This is a partnership between private companies and the state. It offers programs to help with things like:
Housing
Energy assistance (heating and cooling)
Fuel assistance
Community support.
Church and Community Organizations
Never forget that many churches also offer assistance to parishioners and members of the community. If you are living with a disability and cannot work, many of these programs were designed for people in just your situation.
Friends and Family
No one likes to admit needing help, but you should at least consider turning to family and friends. Let those you love know that you are taking all the necessary steps to fight for SSD benefits and all other benefits to which you may be entitled. Still, don't be afraid to ask for help. You may be surprised how willing people might be to assist you.
Restructuring Your Own Finances
Finally, you may just need to do some shuffling of your budget to get by for a while. You may seek a mortgage modification, borrow against a retirement plan or downsize your living arrangement. Now is the time to buckle down and get by until your appeal is resolved.
Our Virginia SSD Benefits Lawyers Can Help You
At Marks & Harrison, we will take prompt action to appeal your denied disability benefits claims. We will also look for ways to expedite your appeal. Our attorneys are passionate about helping people with disabilities. We will always go the extra mile to help you to get through the difficult and frustrating waiting period by helping you to connect with as many resources as possible.
With 10 offices around Virginia, we make it easy and convenient for you to meet with an attorney and get the legal representation you need. For more information or to schedule a free consultation, simply contact us today.