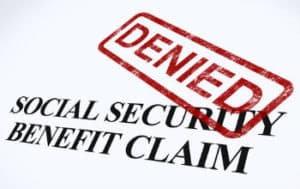 A disabling illness or injury that leaves you unable to work and provide for yourself and your family can be devastating. Not only does a disability take an emotional toll on you, but it takes a financial one as well; the combination can be discouraging and depressing. The Social Security Administration has implemented two programs to help those with disabling conditions receive much-needed financial assistance: Social Security Disability Insurance (SSDI) and Supplemental Security Income (SSI).
The Virginia Department for Aging and Rehabilitation Services – Disability Determination Services partners with the Social Security Administration to make decisions on disability claims. The process of applying for Social Security disability benefits can be tedious and frustrating. What's worse, though, is when you receive a letter in the mail from the Social Security Administration informing you that your claim has been denied. If you have recently received notice of a denied disability claim, it is not over – you still have a chance to get the benefits you deserve by appealing the decision. Here is an overview of what you need to do if your SSDI or SSI claim is denied:
Request for Reconsideration
The first step in the appeals process is requesting reconsideration. During reconsideration, a complete review of your claim will be conducted – the review is performed by a person who did not take place in the original disability benefits determination. During the review, all original evidence will be considered as well as any new evidence you submit to the Social Security Administration. You must submit a Request for Reconsideration form to the Social Security Administration with 60 days of receiving your denial letter; if you wait more than 60 days, your request for review may be denied. You can access the Request for Reconsideration  – Form SSA-561 on the website of the Social Security Administration. Your attorney can help you file this form.
Hearing by an Administrative Law Judge
If your request for reconsideration ends in a second denial of your disability benefits claim, the next step in the appeals process is requesting a hearing by an Administrative Law Judge (ALJ). Like the reconsideration, the ALJ who conducts your hearing will have played no role in any previous decision made about your claim.
During a hearing, you will have an opportunity to present any new evidence you believe substantiates your right to disability benefits, including the testimony of witnesses who support your claim. This may include both expert witnesses such as your doctor as well as witnesses who can testify to how your disability affects your daily life, such as a family member with whom you live. You are allowed to question the witnesses during the hearing.
The ALJ will ask you questions about your disability. Sometimes these questions feel personal and intimate. The ALJ will also question any witnesses who testify on your behalf.
The Office of Disability Adjudication and Review (ODAR) is responsible for conducting SSI and SSDI hearings throughout the state. The hearing will be conducted at a location that is, in most situations, within 75 miles of your home. After the hearing has been completed, you will receive notice of the judge's decision in the mail.
Appeals Council Review
If the ALJ makes a determination about your disability benefits that is not in your favor, you can request a review from the Appeals Council. The job of the Appeals Council is to review your case and decide whether it believes the ALJ's decision may have been incorrect. Keep in mind that the Appeals' Council does not have to accept your request for appeal if it thinks the decision made was correct.
If the Appeals Council accepts your appeal, it will thoroughly review all evidence presented and will issue a new determination. If that determination is favorable, you may receive a new hearing or the Appeals Council may decide to award your disability benefits, including back pay. If the determination is unfavorable, you still have one last shot at getting the benefits you need: filing a lawsuit in federal court.
Federal District Court Lawsuit
The final step in the appeals process is to file a lawsuit in federal district court. Filing a lawsuit in federal district court is a last resort; the process is complicated and can be expensive. If your claim makes it to this stage, consult a lawyer immediately.
Why You Need a Social Security Disability Benefits Attorney
While the four steps of the appeals process may seem straightforward, the truth is that knowing what evidence to present, what to say during a disability hearing, the timelines for appealing a claim, and even how to file an appeal can be complicated. Further, knowing exactly what the Social Security Administration looks for and what you can present that will convince the agency you deserve benefits requires understanding of the regulations and experience with the process. To guide you through the appeals, help you gather evidence and build a strong claim, and improve your chances of getting benefits, you need an attorney on your side who is experienced at appealing disability benefits claims and has extensive knowledge of the appeals process.
Contact Our Virginia SSD Benefits Lawyer Today
Marks & Harrison's Virginia SSD benefits lawyer knows how important it is to you that you get your benefits in as timely a manner as possible. Do not delay – if you have received notice in the mail that your Social Security disability benefits claim has been denied, call us or fill out our online form for a free case consultation today. Remember, you only have 60 days from the date you receive your initial denial letter to take action – time is running out. With offices across the state of Virginia, our team is ready to meet with you now.