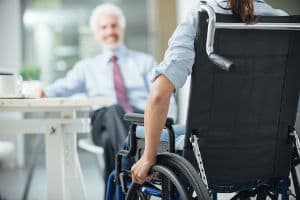 The Social Security Administration (SSA) reports that only a quarter of the roughly 200,000 applications for Social Security Disability (SSD) benefits that are filed each year are approved.
Many disability benefits applications are denied in Virginia and elsewhere because an applicant fails to establish that he or she suffers from a physical or mental condition that meets the SSA's very narrow definition of a "disability."
As the SSA explains in the 2016 Red Book (an informational resource on the policies and procedures that govern disability benefits), you may have a qualifying disability if you establish that you cannot engage in any substantial gainful activity (SGA) as the result of a medically determinable physical or mental impairment which is expected to:
Result in death, or
Last for a continuous period of at least one year.
When you file your SSD benefits application in Virginia, your medical eligibility is determined by Virginia Disability Determination Services (DDS), a division of the state's Department of Aging and Rehabilitative Services.
Typically, a team consisting of a medical professional and a disability benefits analyst will review your application, using a five-step sequential process outlined under Social Security Act regulations.
Let's take a closer look at each of these five steps:
Are you currently engaged in a substantial gainful activity (SGA)?

The first issue you will face in determining your eligibility for SSD benefits is the question of whether you are able to work or engage in substantial gainful activity.

Under current SSA earnings guidelines, if you earn $1,130 or more per month gross pay, you are engaging in substantial gainful activity. You would not qualify for SSD benefits. However, if you do not meet that threshold, you would move on to the next step in the evaluation of your eligibility.

Is your impairment severe?

For a psychological or physical condition to be considered a disability, it must be severe enough to prevent you from engaging in substantial gainful activity. An impairment in and of itself is not enough to qualify you for benefits.

The impairment must impact your ability to perform standard tasks, including physical tasks such as sitting, standing, and carrying objects, as well as more complex tasks that involve using sound judgment, understanding directions and responding appropriately to co-workers and supervisors.

The condition must also – as we stated above – be expected to result in death or last for a continuous period of at least 12 months.

If your impairment is not severe, you would not qualify for SSD benefits. However, if it is severe, your evaluation would move on to the next step.

Do you have an impairment that meets or exceeds the Listing of Impairments?

The SSA Listing of Impairments, or Blue Book, contains criteria for more than 100 different types of conditions. The listed impairments include conditions related to the heart and cardiovascular system, neurological disorders, muscle or skeletal issues, problems with the respiratory system, congenital issues, acquired diseases such as cancer and HIV, and mental disorders.

It is crucial that you provide medical evidence establishing that you exhibit the signs and symptoms of a listed impairment. Your attorney can work with your treating physician to ensure DDS gets the information it will need in order to make a determination.

Impairments found in the Blue Book are considered to be so severe that, if your condition matches or is equal in severity to one of those conditions, you are considered to be disabled. If you also meet non-medical requirements, you likely would qualify for disability benefits.

If your condition does not meet or equal a listed impairment, then your evaluation would move on to the next step.

Can you do any of your past relevant work?

DDS will conduct a "residual functional capacity" assessment. In other words, DDS will determine your ability to handle the physical and mental activities you would face during a typical 40-hour work week given your impairment.

First, DDS will examine the work you have done in the past fifteen years and whether you can do that work now. For example, if you were a carpenter in the past, can you still haul lumber, hammer nails, and get up and down a ladder?

If you can do the work you did before – even with the limitations created by your physical or mental condition – then you do not qualify for SSD benefits.

However, if you can no longer do that work, your evaluation would go to the last step.

Can you do any other work?

If you cannot work as you did before, DDS will look at factors such as your impairment, age, education, and work experience and determine whether you could adjust to doing any other kind of work.

If DDS finds that you could do other work, then you would not meet the SSA's definition of disability. However, if DDS concludes that you could not, then you likely would qualify for SSD benefits (again, as long as you meet all other requirements).
Let Our Virginia Disability Benefits Lawyers Help You
If you have a physical or psychological condition that prevents you from working, our experienced Social Security disability attorneys at Marks & Harrison can help you through the SSD application process.
We also can assist you if your claim has been denied. You have the right to request a reconsideration of the DDS decision on your application. If necessary, we can request a hearing before an administrative law judge. Our caring and knowledgeable lawyers can guide you through the process and aggressively advocate for you.
We know the important role that SSD benefits can play in our clients' lives. We will work tirelessly for you.
To schedule a free consultation, contact us today. We can serve you from our Richmond office or from any of our nine offices located throughout Virginia.