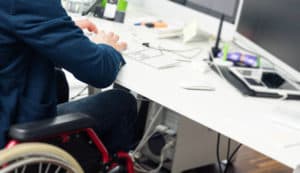 Being disabled can be a very trying experience, especially if the disability prevents you from doing the things you once loved. Of course, if you are disabled, you may also be unable to work, which can make it difficult to support yourself and your family financially.
Social Security disability payments are a great way to support yourself financially in a time of need. However, if your condition begins to improve, you may be able to go back to work. If you do, will you lose your disability payments?
Here, we discuss what you need to know about receiving Social Security disability (SSD) benefits while working – specifically the substantial gainful activity threshold and the SSA's Ticket to Work program.
Substantial Gainful Activity and Social Security Disability Benefits
To be eligible for Social Security disability benefits, a disabled person must be unable to perform substantial gainful activity (SGA). For non-blind individuals, the monthly SGA amount for 2017 is $1,170. The limit is set at $1,950 for blind individuals. This means that individuals who are disabled can earn up to $1,170 per month gross pay (or $1,950 if blind) and remain eligible for payments.
SGA does not apply for blind persons who receive Supplement Security Income (SSI), which is disability pay based on income and resources, but it does apply for non-blind recipients for both Social Security Disability Insurance (SSDI) and SSI. SGA levels increase periodically to account for changes in cost of living.
So, if you want to work, you can. However, you must be sure to stay below the SGA threshold for your disability type.
Social Security Ticket to Work Program
The SSA recognizes the benefits of working. It is good for people suffering from a disability on a personal level, and it is also good overall for the nation's economy. To encourage disabled people to get back to work, the SSA sponsors the Ticket to Work program.
Participation in the program is not required; it is completely free and voluntary. The Ticket to Work program can help you to transition back into the workforce if you have been out of work due to a disability.
Nearly anyone who is disabled and receiving disability payments can apply for the Ticket to Work program. According to the program's website, eligibility is open for those ages 18 through 64 who are blind or disabled and receive SSDI or SSI benefits.
One of the major benefits of Ticket to Work is that work is possible without automatically losing disability payments. While benefits will cease with time if the SGA threshold is breached, a person who is participating in the program may quit it at any time and continue receiving disability benefits in full.
The Ticket to Work program is also great for those who need help finding work. It includes vocational training, employment placements and online webinars – all of which are available free of charge for those seeking work.
The Ticket to Work program is divided into two sections: a trial work period and an extended period of eligibility.
The trial work period refers to any nine months during a 60-month period that you are earning more than $810 per month, during which your ability to work is tested. The period continues until you have hit the nine-month mark. During the trial work period, SSDI or SSI benefits continue in full – regardless of how much you are earning.
After the trial work period concludes, you will transition into the extended period of eligibility. During the extended period of eligibility, you are able to continue working for a period of 36 months while also receiving benefits during the months that your earnings do not hit the SGA threshold. After the 36-month period, your benefits will cease.
If, during the five-year period following a cease in benefits, you are unable to continue working because of your condition, you can ask the SSA to reinstate your benefits without having to file a new application.
If you start or stop work, you must report this to the SSA as soon as possible.
Check out the online pamphlet, Working While Disabled – How We Can Help, for more information about this program.
How Our Social Security Disability Attorneys Can Help You
Being disabled can be very challenging and stressful if you have concerns about earning an income and providing for your family.
Because the rules surrounding Social Security disability benefits are both complex and rigid, it is best to work with an experienced Virginia Social Security disability attorney when pursuing a claim for benefits or when considering going back to work while receiving benefits.
At Marks & Harrison, our Social Security disability attorneys know how important your disability payments are to you and your family. To learn more about how we can help you, call our offices for a free consultation today.