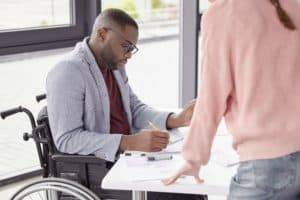 Most people recognize "Social Security" as a program that pays retirement benefits to workers at the end of their careers. However, the Social Security Administration (SSA) also provides benefits to workers whose careers are cut short by a disability. People who have never been able to work because of an injury or illness may be eligible to receive disability benefits through the SSA as well.
If a disability prevents you from being able to work and earn a living, you should consider whether you should apply for Social Security Disability benefits. If you need assistance with your application, or if you want to appeal a claim that was denied, make sure to get help from an experienced SSD benefits attorney at Marks & Harrison.
Here are a few questions you should ask yourself as you get ready to embark on the process:
Are You Disabled?
The SSA pays disability benefits to those who are unable to engage in any substantial gainful activity because of a physical or mental impairment that has or is expected to last at least a year, or which is expected to result in death. The impairment has to be of such severity that the person is unable to do his or her previous work as well as hold any other type of substantial gainful employment.
The Social Security Administration has published a guide, known as the Blue Book, which lists numerous qualifying disabilities. A benefits applicant who submits evidence that includes a medical diagnosis of a disease or disorder listed in the Blue Book may be eligible for benefits (if the person meets all other requirements). Additionally, a person may qualify for SSD benefits if he or she can establish they suffer from an unlisted disability "that is of equal severity" to any disorder listed in the Blue Book. In some cases, a person who cannot match a listed disorder or show evidence of an equal one may obtain benefits if they can demonstrate an inability to work for a living.
What Benefits Do You Seek?
The SSA administers two disability benefits programs:
Social Security Disability Insurance (SSDI) – This program provides benefits to people who worked and paid into Social Security before they became disabled. It allows a disabled worker to obtain benefits based on their earnings when they are needed. Social Security retirement benefits, on the other hand, are only available at a certain age. Generally, a person must have worked for 10 year and paid Social Security tax for at least 20 quarters (three-month periods).
Supplemental Security Income (SSI) – This program is for people who are disabled but have not paid enough into the Social Security program to draw benefits based on their earnings. Typically, people apply for SSI benefits if they suffer from a disability since birth or suffered an injury or illness while young which left them disabled.
These are complex programs with multi-faceted eligibility rules. For instance, while someone is considered disabled if they cannot maintain substantial employment, the person may still work and earn up to an established amount, which is set each year. For 2018, the amount is set at $1,180 per month, or $1,970 for individuals who are blind.
So, if you held employment for several years before you became disabled, you should consider applying for SSDI benefits. If you have never worked, or if you had just started your career when your disability arose, SSI benefits may be available to you.
Did You Become Disabled Because of Your Job?
You should not confuse SSD benefits with workers' compensation benefits. Workers' compensation is a state program. It provides benefits for both short-term and long-term disabilities and for partial as well as total disabilities. However, these benefits cover only disabilities that arise out of and in the course of employment such as a workplace accident or occupational exposure to a source of illness. In contrast, SSD benefits are paid to only individuals who have long-term impairments that preclude any gainful work, regardless of whether the disability arose on or off the job.
A person may qualify for both workers' compensation benefits and SSD benefits. However, the person's SSD payments may be subject to an "offset," or reduction in the payments they receive. This happens if a person's combined workers' compensation and SSD benefits exceed 80 percent of their average earnings at the time their disability arose.
How Long Have You Been Disabled?
Even if fully eligible for SSDI benefits, you must complete a five-month waiting period before you become entitled to receive benefits. The five-month period begins when you first become disabled. This waiting period does not apply to SSI benefits.
Because of the length of time it takes for an application to be considered, there's no need to wait five months to begin the application process. In other words, always keep the complexity of applying for and gaining disability benefits in mind if you are told about a waiting period.
Our Virginia SSD Benefits Attorneys Are Ready to Help You
More than half of the people who file for SSD benefits receive an initial rejection of their claim. In many cases, the SSA denies applications because they are incomplete, contain contradictory information or lack complete information. After a denial for any reason, you may take advantage of the appeals process and pursue the benefits that you deserve.
Don't go it alone if you have any questions about SSD benefits and want to learn more about whether you qualify for them. An experienced SSD benefits lawyer from Marks & Harrison can answer your questions, assess your eligibility and assist you with a claim or the appeal of a denied claim. To get started, contact us today and receive a free consultation through any one of our 10 offices located throughout Virginia.