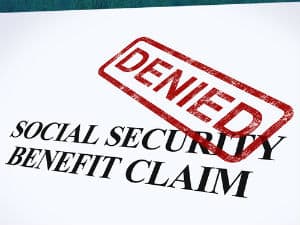 When you suffer from a health condition that impacts your ability to work, Social Security Disability (SSD) benefits can be the lifeline you need to provide for yourself and your loved ones and meet your monthly financial obligations.
Unfortunately, getting disability benefits can be a difficult and time-consuming process. Problems with proving the existence of your medical condition can lead to your claim being denied.
With that said, it is vitally important to never give up when you have a denied Social Security disability claim. You have options that allow you to continue seeking the benefits you believe you deserve.
Should You Appeal or Apply Again?
According to the Social Security Administration (SSA), about 2,400,000 people filed SSD benefits applications in 2015. Only around 775,000 claims were approved.
If a Social Security disability claim is denied, you have two options available to you:
Reapply for disability benefits – Under the SSA Disability Guidelines, this would require you to file a new application with the required accompanying documentation, including the names of and written statements from doctors, hospitals and other medical care providers. You would also need to provide lists of your medications, copies of medical records, and lab and test results. You would need to include a list of your places of employment and copies of W-2 forms and earnings statements.
Appeal your denied disability claim – Under SSA Disability Appeal Guidelines, you would be spared from having to repeat the entire application process. You would need to provide updated documents like your most recent medical information and lists of current medications. You would also need to include documents missing from your original claim.
In Virginia, the SSA reviews benefits applications in partnership with Disability Determination Services (DDS), a division of the state's Department of Aging and Rehabilitative Services.
The DDS bases its decision on medical and psychological information and your training, education and work experience. While DDS aims to work with SSA to decide in a prompt and accurate manner, it is fairly common to have your decision delayed while more information is obtained or to have your claim denied as the result of missing or wrong information and clerical errors.
There are four good reasons why appealing your denied Social Security claim may be your best choice:
You avoid the long process of filling out a second SSD application.
Since you are referencing an already filed and reviewed application, your appeal is likely to be processed faster.
By filing an appeal, you do not have to resubmit documents the SSA already has like lab results and earning statements.
An appeal allows you to focus on and deal with the specific reasons your claim was denied like insufficient information or specific questions about your prognosis.
Was Your Claim Denied? Our VA Social Security Disability Lawyers Can Help
If your SSD benefits claim is denied, you need an aggressive attorney working on your behalf. Our SSD benefits attorneys at Marks & Harrison have the training and experience you need when going through the appeals process. We will ensure the proper documents are filed under SSA rules.
The Social Security disability appeals process comprises four levels:
Reconsideration – This is a complete review of the evidence to support your claim by someone not involved in the original decision-making process. Our attorneys deal extensively with the SSA and DDS. We know the information and evidence these agencies require to make a favorable decision on your claim.
Hearing by an administrative law judge – If you disagree with the reconsideration decision, we can ask for a hearing before an administrative law judge. You and any other witnesses will be questioned by the judge. The evidence in your case will be examined. Your attorney can ensure your rights are protected, present evidence in favor of your claim and challenge evidence against you or your right to benefits.
Review by the Appeals Council – If your claim continues to be denied, we can ask for a review by the Appeals Council. Your attorney can make clear and convincing arguments to the Council on why your case should be reviewed and why the SSA was wrong in denying your benefits claim.
If you or someone you care about is dealing with the frustration and financial impact of a denied SSD benefits claim, contact Marks & Harrison today. Our experienced Social Security disability attorneys can provide aggressive legal representation to help you in pursuing the disability benefits you may be entitled to receive.
With nine offices to serve you in Richmond and throughout the Virginia area, we can help you right away. Call or contact our office online today for a free consultation.